Posts for: November, 2012
By 4 Dental Health
November 26, 2012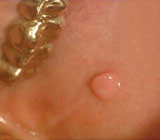 When it comes to your oral healthcare, we strive to provide state-of-the-art care along with education to both our patients and community. One way we do this is by taking a moment to answer some of the questions we are most often asked about a certain topic. And one topic that almost always ignites questions is the subject of lumps and bumps in the mouth.
Help! I just found a small lump in my mouth — what should I do?
Not to alarm you, but your first priority is to contact us as soon as possible to schedule an appointment so that we can review it. Most often, we will know what it is by taking a history, knowing how long it's been there and what it looks like. Depending on what we find, we may want to take a biopsy so that we can determine exactly what it is and how we need to treat it.
What is involved in having a biopsy performed?
A biopsy is a normal and routine procedure that is used to definitively diagnose and confirm exactly what the abnormal lump, bump or other tissue is. It is typically performed with local anesthesia so that a small tissue sample can be removed without any pain for examination under a microscope. Depending on the size of the wound, it may require two to three sutures (stitches), leaving a flat and flush surface that heals in a few days to a week. The procedure usually lasts between 10 and 15 minutes with the lab results processed within a few days.
Does this mean I have cancer?
No, the chances are slim that you actually have cancer. However any change or sore in the mouth that does not heal in a week or two should be evaluated by a dentist and if necessary biopsied. If it is pre-cancerous and removed, it could save your life. The most important fact you need to remember is that no one can tell for sure what the abnormal tissue growth is until an expert in oral pathology ("patho" – disease; "ology" – study of) examines it under a microscope. While it is human nature to be concerned, until you have the facts, you are suffering needlessly.
To learn more about this topic, continue reading the Dear Doctor magazine article "Common Lumps and Bumps In The Mouth." Or you can contact us today to schedule an appointment to discuss your specific questions so that we can put your mind at ease.
By 4 Dental Health
November 08, 2012
Prior to his first appearance on the Oprah Winfrey show, interior designer Nate Berkus knew immediately that he was not there to pick sofa colors and paint chips. Instead, he was there to lift people up through the way they live. And boy, did he do just that. Over the next eight years, Berkus completed 127 makeovers and became one of America's most beloved go-to guys for inspiration on the latest design trends.
During a recent interview with Dear Doctor magazine, Nate discussed his career as well as his oral healthcare. He credits his dazzling all-natural smile — no cosmetic dentistry here — to the treatments he received as a child from his dentist. "I'm grateful for having been given fluoride treatments and sealants as a child." He then added that, "healthy habits should start at a young age." Nate is still in the habit of brushing his teeth two or three times a day. As for flossing his teeth, he credits his dentist with the advice he still follows: "Floss the ones you want to keep."
Many parents and caregivers may not be aware of the important role fluoride treatments play in protecting children's teeth. Fluoride has the unique ability to strengthen tooth enamel, the hardest substance found in nature. Depending on where you live, you may have fluoridated tap water. You may also have fluoride in your toothpaste, depending on the brand you use. Both of these are beneficial, but sometimes we recommend additional fluoride treatments based on the specific needs of your children. Why? The concentrations of the topical fluorides we typically apply are much higher than what is found in toothpastes, and we apply them for a longer period of time. For example, we often apply them for four minutes per treatment session.
To learn more about fluoride treatments, contact us today to schedule an appointment so that we can conduct a thorough examination, discuss any questions you have as well as what treatment options will be best for you or your child. Or to learn more about fluoride treatments now, you can continue reading the Dear Doctor magazine article "Topical Fluoride." And to read the entire interview with Nate Berkus, please see the Dear Doctor magazine article "Nate Berkus."