Posts for: April, 2013
By 4 Dental Health
April 20, 2013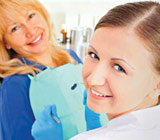 If you've recently had a dental implant placed, congratulations! You have made a good investment in your smile that should last for a lifetime — if you take proper care of it. This is easy to do with a good oral hygiene routine and regular professional cleanings. Here are some important things to keep in mind about implant care:
Implants can last as long as teeth. A dental implant made of titanium will fuse to the bone surrounding it and function just like a natural tooth. It is a highly successful method of tooth replacement that succeeds more than 95% of the time.
Implants and natural teeth attach to surrounding bone and gums very differently. A natural tooth does not actually fuse to the bone that surrounds it. Instead, it is held in place by a periodontal ligament ("peri" – around; "odont" – tooth) made up of tiny fibers that insert into the bone on one side and into the tooth on the other. Farther up, these collagen fibers attach the tooth to the gum tissue. Implants and the crowns that go on top of them are not anchored to the gum in this way. An understanding of this biology is important for maintaining good periodontal health when implants are present. We will go over this with you so can care for your implants correctly.
Infection is the enemy. Bacterial infection is a concern with both natural teeth and implant-supported teeth. A bacterial biofilm (plaque) builds up daily on implant teeth, just as it does on natural teeth. If it is not regularly cleared away, various oral infections can develop. In the case of natural teeth, this might result in tooth decay, gum disease, and the loss of tooth-supporting bone. Implants can't decay, but they can be threatened by a rapidly progressing infection known as peri-implantits ("peri" – around; implant "itis" – inflammation), which can lead to a well-like or dish-shaped loss of bone around the implant. The implant can become loose as greater amounts of bone is lost.
Good oral hygiene is as important as ever. Daily removal of bacterial biofilm is key to preventing peri-implantitis. You'll want to make sure you brush your teeth twice daily with a soft brush and fluoride toothpaste, and floss gently at least once per day.
Your dental hygienist has an important role to play. Professional cleanings here at our dental office are also still as necessary as ever, if not more so. Dental hygienists have special instruments they use to clean areas around your implant that can't be reached by your brush or floss — without scratching the surfaces of your implant components.
If you would like more information about dental implants, please call us or schedule an appointment. You can also read more by reading the Dear Doctor magazine article "Dental Implant Maintenance."
By 4 Dental Health
April 05, 2013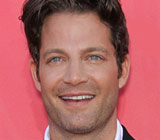 When it comes to dental health, you might say celebrity interior designer and television host Nate Berkus is lucky: Unlike many TV personalities, he didn't need cosmetic dental work to achieve — or maintain — his superstar smile. How did he manage that? Nate credits the preventive dental treatments he received as a youngster.
"I'm grateful for having been given fluoride treatments and sealants as a child. Healthy habits should start at a young age," he told an interviewer from Dear Doctor magazine. We couldn't have said it better — but let's take a moment and examine exactly what these treatments do.
Fluoride treatment — that is, the topical (surface) application of a concentrated fluoride gel to a child's teeth — is a procedure that's often recommended by pediatric dentists. Although tooth enamel is among the hardest substances in nature, fluoride has been shown to make it more resistant to tooth decay. And that means fewer cavities! Studies show that even if you brush regularly and live in an area with fluoridated water, your child could still benefit from the powerful protection of fluoride treatments given at the dental office.
Another potent defense against cavities is dental sealants. Despite your child's best efforts with the toothbrush, it's still possible for decay bacteria to remain in the "pits and fissures" of the teethâ??those areas of the molars, for example, which have tiny serrated ridges and valleys where it's easy for bacteria to grow. Dental sealants fill in and protect vulnerable areas from bacterial attack, greatly decreasing the risk that future dental treatment will be required.
Why not take a tip from our favorite celebrity interior designer, and ask about cavity-preventing treatments for your children's teeth? If you would like more information about fluoride treatments or dental sealants, please contact us for a consultation. You can learn more in the Dear Doctor magazine articles "Topical Fluoride" and "Sealants for Children."