Posts for: October, 2013
By 4 Dental Health
October 30, 2013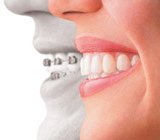 Compared to traditional braces, orthodontic clear aligners seem miraculous in many ways, almost too good to be true. You may be wondering if they really work. The answer is yes — but they are not for everyone.
What are orthodontic aligners and how do they work?
Clear orthodontic aligners are an alternative to traditional braces that are used to move your teeth and transform your smile without much interference to your daily life. They are removable trays made of a clear plastic material that is essentially invisible.
When using aligners, a sequence of slightly different trays is custom-made to fit over your teeth. You must wear each one 20 hours a day for two weeks before changing to the next in the series. The aligners are computer generated, designed by state-of-the-art techniques based on models and images of your own teeth. They work because slight changes in the sequential aligners gradually shift your teeth. If they are worn consistently, the process takes from six months to two or three years.
Advantages over traditional braces are:
The aligners can be removed for eating, drinking, brushing, flossing and social occasions.
They have no rough edges or wires, making them more comfortable.
Changes become visible quickly as your teeth move into their new, better positions.
Clear aligners are a good solution for correcting mild to moderately crowded or incorrectly spaced teeth. They are most effective if your back teeth already fit together properly. Clear aligners are usually effective in correcting simpler or tipping movements of teeth in two dimensions. For more complex movements, traditional braces may be required. Clear aligners are usually recommended for adults whose teeth and jaws are fully developed, and not for children.
When do you need traditional fixed braces?
Traditional braces are fixed brackets attached to the teeth through which narrow, flexible wires are threaded. They may be necessary if your teeth do not meet properly, creating too much overbite or underbite. Closing spaces where teeth are missing, rotating teeth, or other complicated situations probably make you a better candidate for traditional braces.
Each particular situation is unique. To find out if clear aligners are right for you, make an appointment with us for an assessment and diagnosis of your own situation. For more information see the Dear Doctor magazine article "Clear Orthodontic Aligners."
By 4 Dental Health
October 15, 2013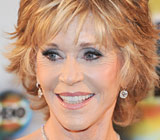 Not long ago, Jane Fonda gave a British interviewer a clue as to how she manages to look so young at her advanced age. During the 2011 Cannes Film Festival, the septuagenarian actress and fitness guru said to a journalist from the London-based Daily Mail, "See these teeth? They cost $55,000. It was teeth or a new car — and I opted for the teeth."
We think she made the right choice — though she might have overpaid just a tad. Most people don't have that kind of cash to spend on either a car or new teeth. But luckily, you can get either for a lot less — particularly the teeth!
The truth is, at a reasonable cost, cosmetic dentistry really can make you look a lot younger while giving your self-esteem a tremendous boost. It's an investment in both your emotional and oral health as we will never implement a smile makeover without first making sure we've addressed any underlying dental disease. Best of all, it doesn't have to cost anywhere near what you'd pay for the latest-model Jaguar, the price tag of Fonda's smile notwithstanding. Here is a list of the more common cosmetic dental techniques used to enhance a person's smile:
Whitening — a peroxide-based bleach is applied directly to the teeth to remove minor staining and discoloration.
Bonding — an acrylic material is applied to a tooth, colored and shaped to match the person's other teeth. Primarily used for chipped, broken or decayed teeth.
Enamel Shaping — the removal of very tiny amounts of enamel, the tooth's outer layer, for a more pleasing tooth shape.
Veneers — a thin shell of custom-designed tooth-colored material, usually porcelain, affixed to the front surface of the teeth.
Crowns and Bridgework — a technique that covers heavily damaged teeth or replaces missing teeth by capping them, or using capped teeth to support one or more false teeth.
Dental Implants — a small titanium post is surgically implanted in the jawbone to replace the root-part of a missing tooth. A lifelike crown is attached to the implant above the gum line and is the only part of the whole tooth restoration that is visible in the mouth.
Gum Contouring — a minor surgical procedure altering the position of the gum tissue to improve the look and regularity of the gum line around the teeth.
If you'd like more information on cosmetic dentistry, please contact us or schedule an appointment. To learn more, please read the Dear Doctor magazine articles, "Beautiful Smiles by Design" and "The impact of a Smile Makeover."