Posts for: April, 2014
By 4 Dental Health
April 17, 2014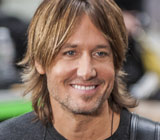 He once lived in Australia, wore his hair in a mullet, and played guitar in a band called The Ranch. Today, country music star Keith Urban looks different than he did when he started out — and it's not just the mullet that's changed. As before-and-after pictures show, he's had a smile makeover. His teeth, which were dull yellow in color, and used to have a large gap in front, are now white and shiny. The gap is still there — though it has been reduced to a more modest size. How did he manage to upgrade his image, yet keep part of his signature "look" intact?
Cosmetic dentistry has a number of ways to improve the appearance of a smile like Keith's. One is tooth whitening. It's a simple procedure that can be done in our office or at your home; either way, it's an effective treatment that offers great value. In-office whitening, using the most concentrated solutions under our direct supervision, will give you the fastest results. We can also prepare a take-home kit, with custom-made trays and safe bleaching gels you can use at home. You'll get similar results, but it will take a bit longer.
Of course, whitening isn't permanent (though it can be repeated when necessary); not all teeth can be lightened as much as you might like; and it doesn't correct gaps or unevenness. There's another treatment that does, however: dental veneers. These are wafer-thin coverings made of porcelain, which are bonded to the prepared surfaces of your teeth. They are available in a number of shades — from natural to "Hollywood white" — and can even hide minor chips or spacing problems. That's why veneers are often the treatment of choice when you're looking for a "red carpet" smile.
Perhaps the best thing about veneers is that they give you plenty of choices when it comes to designing your smile. You can choose how white you'd like your smile to be, and even fix some "flaws" — or not! So how much you choose to close that gap in your teeth is up to you… but if you're asking our opinion, the mullet has to go.
If you would like more information on dental veneers, please contact us or schedule an appointment for a consultation. You can learn more about this topic in the Dear Doctor magazine articles "Beautiful Smiles by Design" and "Porcelain Veneers."
By 4 Dental Health
April 02, 2014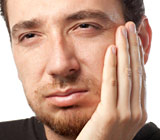 If you were recently in an accident or received a hard hit while playing sports and you have been feeling jaw pain ever since, you may be suffering from a serious injury. It is important that you make an appointment with us immediately, so that we can conduct a proper examination, make a diagnosis and prescribe a suitable treatment. Even if the pain is lessening, you should still make an appointment.
Without seeing you, we have no way of definitively diagnosing the cause of your pain. However, here are a few possibilities:
You displaced a tooth or teeth.
You indirectly traumatized or injured the jaw joint (TMJ — temporomandibular joint). This trauma will cause swelling in the joint space, and the ball of the jaw joint will not fully seat into the joint space. If this is the issue, it is likely that your back teeth on the affected side will not be able to touch. Over time, the swelling should subside, allowing the teeth to fit together normally.
You may have a minor fracture of your lower jaw. The most common is a "sub-condylar" fracture (just below the head of the joint), which will persist in symptoms that are more severe than simply bruising and swelling.
You may have dislocated the joint, which means the condyle or joint head has been moved out of the joint space.
All of the above injuries can also cause muscle spasms, meaning that the inflammation from the injury results in the muscles on both sides of the jaw locking it in position to stop further movement and damage.
The most critical step is for you to make an appointment with our office, so we can conduct a physical examination, using x-rays to reveal the extent of your injury. We'll also be able to see whether the injury is to the soft tissue or bone.
Treatment may involve a variety of things, including anti-inflammatory and muscle relaxant medications. If your teeth have been damaged, we'll recommend a way to fix this issue. If you have dislocated your jaw, we may be able to place it back through gentle manipulation. If you have fractured your jaw, we'll need to reposition the broken parts and splint them to keep them still, so that they can heal.
If you would like more information about jaw pain, please contact us or schedule an appointment for a consultation. You can also learn more by reading the Dear Doctor magazine article "Jaw Pain."