Posts for tag: nutrition
By 4 Dental Health
February 02, 2018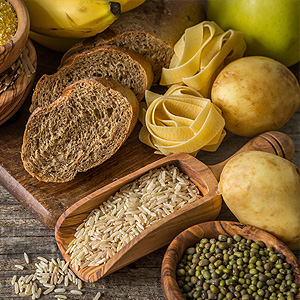 If you've had issues with periodontal (gum) disease, no doubt a few things have changed for you. You may be seeing us for dental cleanings and checkups more frequently and you have to be extra diligent about your daily brushing and flossing.
There's one other thing you may need to do: change your diet. Some of the foods you may be eating could work against you in your fight against gum disease. At the same time, increasing your intake of certain foods could boost your overall oral health.
The biggest culprits in the first category are carbohydrates, which make up almost half the average diet in the Western world, mainly as added sugar. Although carbohydrates help fuel the body, too much can increase inflammation—which also happens to be a primary cause of tissue damage related to gum disease.
Of course, we can't paint too broad a brush because not all carbohydrates have the same effect on the body. Carbohydrates like sugar or processed items like bakery goods, white rice or mashed potatoes quickly convert to glucose (the actual sugar used by the body for energy) in the bloodstream and increase insulin levels, which can then lead to chronic inflammation. Complex or unprocessed carbohydrates like vegetables, nuts or whole grains take longer to digest and so convert to glucose slowly—a process which can actually hinder inflammation.  
Eating less of the higher glycemic (the rate of glucose conversion entering the bloodstream) carbohydrates and more low glycemic foods will help reduce inflammation. And that's good news for your gums. You should also add foods rich in vitamins C and D (cheese and other dairy products, for instance) and antioxidants to further protect your oral health.
Studies have shown that changing to a low-carbohydrate, anti-inflammatory diet can significantly reduce chronic inflammation in the body and improve gum health. Coupled with your other efforts at prevention, a better diet can go a long way in keeping gum disease at bay.
If you would like more information on the role of diet in dental health, please contact us or schedule an appointment for a consultation. You can also learn more about this topic by reading the Dear Doctor magazine article "Carbohydrates Linked to Gum Disease."
By 4 Dental Health
June 01, 2016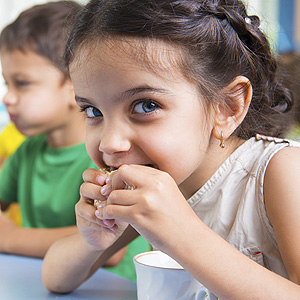 While you do all you can to provide your child healthy meals and snacks at home, they still face tempting choices for unhealthy fare when they're away. Unfortunately, their school campus could be one of those places with food choices that raise their risk for dental disease.
Thankfully, that situation is beginning to change. The U.S. Department of Agriculture (USDA) issued regulations a few years ago tightening minimum health standards for snacks available on school grounds. Called the Smart Snacks in Schools initiative, it promotes whole grains, fruits, vegetables and low-fat dairy products, while discouraging snacks with empty calories, fat, sugar and excessive salt. This is good news in particular for preventing tooth decay in children and teenagers.
Unfortunately, the initiative may not go far enough. There are a few "loopholes": it allows for chocolate milk with added sugar as long as it's fat-free; high schools can also sell beverages like sports and energy drinks, which are low in sugar but high in enamel-harming acid. So, although the general nutrition of snacks in schools may be improving, you should still remain alert to poor choices that may fall through the cracks.
For one thing, you can advocate for better nutrition policies in your child's school. The USDA initiative is a minimum standard — schools can exceed them and eliminate borderline snacks allowed under the federal regulations.
You can also provide your child snack alternatives to the school vending machine. A little creativity and fun can go a long way: a dash of cinnamon or parmesan cheese on popcorn instead of butter; finger sandwiches made of real cheese on whole-grain bread (with some whimsical shaping with a cookie-cutter); or bite-sized fruits and vegetables like grapes, baby carrots or nuts. The more healthy (and enjoyable) snacks you can send with them, the less chance they'll turn to a less nutritious choice in the vending machine.
A healthier approach to snacking depends on setting good examples, providing ample selections and accentuating the positive about healthy foods. Choosing nutritious foods, at home and away, is a key building block for healthy teeth and gums.
If you would like more information on nutrition and dental health, please contact us or schedule an appointment for a consultation. You can also learn more about this topic by reading the Dear Doctor magazine article "Snacking at School."