Posts for tag: veneers
By 4 Dental Health
June 08, 2015
Your dental health is good, and you feel confident your teeth and gums will continue to serve you well. Yet, your smile has some gaps, and your 2 front teeth overlap a bit. Your self-image suffers.
Other people worry about their smiles, too. A recent American Academy of Cosmetic Dentistry survey shows that many adults believe a better-looking smile would improve their business and personal relationships and also boost their self-confidence. Dentists Steven Christensen and Chad Coombs at 4 Dental Health in Layton, Utah agree. When teeth look good, people feel great, and excellent cosmetic dentistry presents many ways to transform smiles.
Consider Porcelain Veneers
Porcelain veneers are a popular and effective way to transform a chipped, dull or stained smile. Also addressing minor bite problems, gaps, crowding and overlapping, veneers create a nice, even row of natural-looking teeth that feel and function in the way Nature intended. Bonded to one or more teeth, this cosmetic improvement is considered permanent and irreversible.
Many older teens and adults are candidates for veneers. In general, teeth should be free of extensive decay and infection and gums, pink and healthy. When a tooth has large or multiple fillings, the dentist may choose a crown rather than a veneer.
Often used in addition to cosmetic bonding and teeth whitening, porcelain veneers are customized shells of durable, bright porcelain securely glued to the front side of one or more teeth. With the removal of a small slice of enamel (about 1/2 mm), your Layton, Utah dentist takes impressions and sends them to a professional lab. In a subsequent appointment, he bonds the new veneers to the teeth, adjusting for fit, bite and shape. Veneers produce smiles that are durable and look just like the real thing - only straighter, brighter and better!
Caring for Veneers
Patients who practice diligent home hygiene do well with veneers, and the aesthetics last for years. Individuals brush twice daily with a quality toothpaste and floss each day to remove plaque from between teeth. Dental exams and cleanings are twice a year or as Dr. Christensen or Coombs recommend. Of course, patients shouldn't chew ice or peanut brittle with their improved smiles. While veneers resist staining, cigarette smoking is also not a good idea.
4 Dental Health in Layton, Utah
Steven Christensen DDS and his associate, Chad Coombs DDS, want their patients to enjoy a mouth full of healthy, strong teeth that also look naturally beautiful. Would porcelain veneers straighten and correct your smile? Why not find out by contacting 4 Dental Health? A cosmetic consultation can be the first step toward a dazzling smile. Call (801) 889-1044 for an appointment.
By 4 Dental Health
May 12, 2014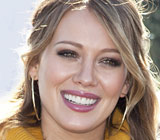 Many Hollywood luminaries use porcelain veneers to enhance their smiles. Take actress and singer Hilary Duff, who, according to People magazine, had veneers placed on her two front teeth after chipping them on a microphone during what must have been an extremely energetic performance.
Well, you don't have to be a Hollywood star to benefit from a smile enhanced with porcelain veneers. If you have small chips, cracks, slight tooth rotations or minor spacing problems, veneers may be able to give you back your smile — or an even better one.
The word "veneer" refers to a super-thin covering, and in dentistry a veneer is a thin layer of porcelain that replaces your natural tooth enamel. Porcelain is the material of choice because of its strength, translucency, and ability to resist erosion.
In the right hands, dental porcelain can mimic tooth enamel perfectly. To make veneers, a skilled dental technician will mix porcelain powder (in a shade specified by the dentist) with water and then fire the material in an oven like pottery; the porcelain is built up in layers for a truly lifelike effect.
Before a veneer is bonded to a tooth, often we need to remove a tiny bit of the tooth's existing enamel so that the final effect will not be too bulky. The procedure is virtually painless and can be completed in as little as two visits. Because enamel is removed, this particular cosmetic treatment is not reversible. Sometimes veneers can be added directly onto the tooth surface without any tooth reduction and therefore are reversible if used in this way.
Once you have veneers, please keep in mind that while extremely strong, porcelain veneers are not indestructible; you won't want to do things like crunch ice or break nuts open with your teeth. And if you are a teeth-grinder, you should wear a nightguard to protect your beautiful new smile. With proper care, your veneers will last 20 years or more.
If you would like more information about porcelain veneers, please contact us or schedule an appointment for a consultation. You can also learn more by reading the Dear Doctor magazine article "Smile Design Enhanced With Porcelain Veneers." Dear Doctor also has more on "Cosmetic Dentistry: A Time For Change."